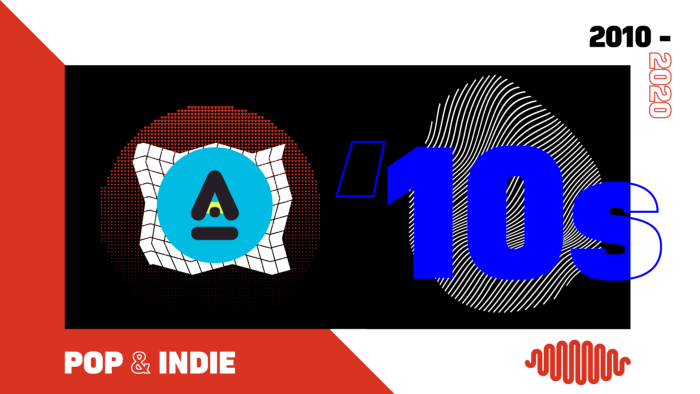 As the '10s come to a close, we took a little trip back through the past 10 years and picked out just a few of the songs that stood out for us. Tempos have slowed, genres are gone haywire and vinyl is back! Where we listen and how we listen has inevitably changed what we listen to. As music becomes easier to produce and distribute, it has also become harder to find. Music discovery is a challenge faced by every listener. We asked members of our team to pick five songs that defined the decade for them. It was tough, but here are songs they discovered through the music community, live music, or intense music nerdery. Listen to all of the tracks on our Spotify channel.
To learn more about how Activaire curates music for businesses click here.

Midnight Magic — "Beam Me Up" (Jacques Renault Remix) [2010]
Nearly ten years later, this modern disco anthem still bangs. In 2010, this song was everywhere, but what made it special was that Midnight Magic was also everywhere. Everyone who had the chance to see Midnight Magic perform these songs live was instantly blown away by how tight the band was and how Tiffany Roth could deliver on the vocals. Jacques Renault did a fantastic job of preserving the original song while just adding subtle changes to make the song even more dancefloor-ready. Permanent Vacation released a vinyl reissue of "Beam Me Up" this year, so keep an eye out.
Lana Del Rey — "Blue Jeans" [2011]
In 2010, two years before the release of "Born to Die," Lana Del Rey released her "A.K.A. Lizzy Grant" debut. It was a standout record primarily because it didn't fit in with anything else that was out at the time. There were similar themes and sounds, but LDR had a way of making a new sound out of it all. Soon after its release, the "Lizzy Grant" album disappeared. In 2012, "Born to Die" came out and baffled everyone. People either obsessed over it or hated it. Eight years later, it's clear to see that LDR had a significant influence on modern music.
Peggy Gou — "It Makes You Forget (Itgehane)" [2018]
"It Makes You Forget" is an odd title considering how unforgettable the song is. After just one listen, you'll become obsessed. It's safe to say that a large portion of Peggy's international fanbase is not fluent in Korean, and yet her, they eagerly try to sing along to the lyrics every time she performs it. Aside from making near-perfect dance-pop, Peggy has been a champion of house and electronic music around the world. As a globetrotting DJ, Gou effortlessly mixes new underground bangers with forgotten classics.
Clairo — "Bags" [2019]
While we're all gathered around watching Baby Boomers and Millennials duke it out, Generation Z is stepping up and are about to change everything. Leading the way are artists like 21-year-old Clairo. Starting on YouTube with her viral hit, "Pretty Girl" has quickly landed Clairo a spot on the music festival circuit and consistent sold-out solo tours. Her music is fluid and continually evolving. There's a willingness to explore the past and present that results in songs that are unique and familiar. We expect that the '20s will be big for Clairo.
Anik Khan — "Big Fax" [2018]
The idea of a Bangladeshi rapper raised in Queens New York, making a mark on the Hip Hop scene with songs about life as an immigrant, didn't exist a decade ago. Inclusion is starting to permeate the music world, and Anik Khan is just one example where we are beginning to hear the perspectives and stories of people who not that long ago we either invisible or misrepresented in media. We're expecting many more new stories and vibes from communities around the world in 2020.

Chromatics — "Cherry" [2012]
Chromatics has a sound that perfectly encapsulates life in the early 2010s, dark and moody synths with a hint of despair. The economy collapsed around us and all we were left with were sad love songs. "Cherry" is, for me, a definitive example of that feeling.
Mount Kimbie — "Carbonated" [2011] Electronic music as a whole, and particularly the UK scene, started to really make waves with American youths at the beginning of this decade. Dubstep and EDM festivals aside, there was more space for the softer side of electronic music — the tracks you listen to on your way home from the club, coming down from the rush. "Carbonated" is elegant, understated, and still holds my attention 8 years after its release.
Solange — "Cranes in the Sky" [2016] In spite of being several albums in, I think many would say that Solange really came into her own with A Seat At The Table. In an era rife with disagreement over identity-politics, she managed to capture a snapshot of the black female experience and deliver it in a soft and enticing package. "Cranes in the Sky" was the lead single and offers a glance into the depth of this album.
ROSALÍA — "PIENSO EN TU MIRÁ (Cap.3: Celos)" [2018] Rosalia's iconic concept album El Mal Querer arrived at the perfect time. After years of marginalization, Spanish-language music had finally broken through to the American mainstream. The pop bangers opened the door for more experimental sounds and Rosalia arrived with an album drawing influence from flamenco, ballads, and trap. It has a deeply cinematic feel, with tons of twists and turns. "Pienso en tu Mira" is a shining example of its many facets.
Blood Orange — "Best To You" [2016] Blood Orange has had such a prolific output and influence over the past decade, that it would be remiss to not include him. He has tons of amazing tracks to choose from but "Best to You" (featuring Lorely Rodriguez of Empress Of) is the one that I never want to change when it comes on. Pure indie pop at its best.

Låpsley — "Operator" (DJ Koze's extended disco version) [2016] From the moment the needle hits the record you wanna Dance, effortless Nu-Disco production by Koze on this subtle remix and beautifully delivered vocals by Låpsley made this the must-have track for DJs in 2016 and it continues to fill dancefloors to this day and if you come across the 12″ of this grab it because it regularly goes for 100s of dollars on Discogs making it highly collectible.
Todd Terje — "Inspector Norse" [2012] Without a shadow of a doubt the best remixer and producer of the decade was Norweigan DJ / Producer Todd Terje! Terje, real name Terje Olsen was discovered by Manchester DJs Richard 'Moonboots' & Jason Boardman after being sent re-edits of obscure Disco & prog rock and off-kilter weirdness by Terje they invited him to play their long-running Sunday night party Aficionado and the rest, as they say, is history! TT since then has released 100s, yes 100s of Remixes, Re-Edits and Original compositions under other monikers such as Wade Nichols, Duliatten Disco Dandia, Chuck Norris, New Mjøndalen Disco Swingers, Kacic Kullmann's Five , but this track in particular just stands out for me as THE dance floor anthem of the Decade. With its unusual wacky production style that just builds and builds until you reach euphoric crescendos accompanied by clever breakdowns and unusual synth lines Terje provides us not one with one of the truly great Dance records of all time but also with a master class in music production!
Psychemagik — "Valley of Paradise" [2011] My top 5 wouldn't be complete without a Balearic selection and with so many to choose from this was a hard choice but I picked this for a number of reasons. Not only is this a timeless classic that will be played for as long as music is around but it's a beautiful composition that would sound perfect just about anywhere from a beach bar in Bali to a soundtrack for a scene in a film. I also picked this because Danny & Tom AKA Psychemagik were also one of the biggest breakout DJ/Production teams of the decade and I would highly recommend digging into their back catalog and also keep your ears open for their brand new debut album that drops early 2020.
Red Axes — "Waiting for a Surprise" [2017] Another one of the breakout producer duos of the last few years these guys have taken the global dance music scene by storm! Hailing from Tel Aviv's incredibly healthy music scene this track was one of my DJ secret weapon dance floor destroyers for a long time! 'Waiting for a Surprise' builds around a mid-tempo disco baseline, with tough percussion, and rugged synth stabs, but it's the eerie and unique sounding vocals of Brazilian collaborator Abrao that bring everything together. This one is a guaranteed bomb for building up, tearing down, peak time or chilling out… an outstanding track in every sense, the kind that forces trainspotters to the DJ booth to discover what's playing. essential and the 12″ comes with an additional remix from Moscoman & Manfredas.
Arctic Monkeys — "R U Mine" [2013] The only Rock track in my 5 but a very special record to me for a number of reasons. This swaggering love song where he says "Satisfaction seems like a distant memory, I can't help myself, all I want to hear you say is 'Are you mine?" is something that most people can relate to at some point in their lives but its the sexy & dangerous heavy guitar riffs and hard-hitting drums that make this a classic in the Rock genre and set this Yorkshire band head and shoulders above their peers.

Laakso — "So Happy So Sad" [2016] These guys are essential Swedish indie-rockers. They have been at it since the early aughts, and they continue to put out catchy tunes with lyrics that deal with love, longing, and late-night escapades. They are the very definition of cool.
Kendrick Lamar — "Poetic Justice" ft. Drake [2013] Kendrick invited us all into his inner life with this album. It's a vivid, intense and timeless record. Poetic Justice was certified gold in 2013. It famously sampled Janet Jackson's hit "Any Time, Any Place".
Arcade Fire — "The Suburbs" [2010] Having grown up in the burbs, this whole album connected with me. The music video for this track seems even more relevant today. It really encapsulates the suburban ennui. Even though I currently live in a city, I'll always have traces of suburbia in me.
Sufjan Stevens — "Carrie & Lowell" [2015] Sufjan is an incredibly talented artist. What drew me to him was his inventive use of orchestral instrumentation in his music. Carrie & Lowell, however, is completely stripped down, as he confronts his childhood. Tackling grief, depression, and faith, this album will bring about self-reflection. I don't recommend playing at parties.
M83 — "Midnight City" [2011] I posted the Jimmy Fallon performance because I still think it's one of the best I've seen. This track is an explosion of spacy euphoria (the whole album is) that will fill your body with goosebumps. Memorable vocal riff, analog synths, large drums, and a saxophone solo at the end.

Imarhan — "Tahabort" [2015] This Algerian desert band's sound is simultaneously ancient and futuristic. Driving, beautiful songs with excellent musicianship deftly bring dance-rock to a timeless dimension. When Imarhan released on City Slang it gave them exposure to a typically Western-leaning audience.
Budos Band — "Old Engine Oil "[2019] Psych Rock, Doom Metal, Soul and Ethiopique join forces to masterfully get the Led Out. Budos Band consistently delivers a deliciously heavy sound.
Yaeji — "Guap" [2016] From the first note of the first measure, this track instantly communicates all aspects of what I have always loved about club music: warm dark minimalism. After "Guap", Yaeji proceeded to deliver flawless norm-core cool production on her EP2 with 2 standout tracks: "RainGurl" and "Drink I'm Sippin' On."
Parquet Courts — "Normalization" [2018] Parquet Courts delivered 6 albums this decade which were consistently thrashy and authentically gritty.
Disclosure —" F For You" (feat. Mary J. Blige) [2013] The soulful electronic perfection of sound produced by two brothers has been nothing short of phenomenal. Their tracks for megastars Sam Smith, Lorde, Aluna George, The Weeknd stand up as some of the best ever released by these artists.

Róisín Murphy — "Incapable" [2019] Incapable was Róisín Murphy's break out single for 2019 ahead of her forthcoming album likely next year. Getting together again with longtime collaborator DJ Parrot to create a catchy disco-leaning jam suitable for the dancefloor. Not only is it an irresistible track, its made more appealing by Murphy's contrasting approach to the typical heartache narrative through the point of view of someone unaffected by the heartbreak of love though aware that without suffering there will be no love.
Fatima Yamaha — "What's a girl to do" [2004/2015] Admittedly I'm sneaking this one into the 10's. Though initially released in 2004, Fatima Yamaha's What's A Girl To Do did not gain the widespread recognition and cult appeal it has today until Dekmantel re-released it back in 2015. This track is a prime example of those songs that come along and immediately appeal to everyone, and I'm no different.
Bambi Davidson — "Brunswick"[2015] Brunswick is a 13-minute odyssey by the little known German group Bambi Davidson released on one of my favorite labels, Paul 'Mudd' Murphy's Claremont 56. I listened to this track every day for months. I would compare it to a guided meditation held together by the steady, minimal beat, slowly taking its time to bloom into the buzzed out electronic chorus then descending back to its core rhythm.
Jonny Nash — "Exit Six" [2015] As an artist, Jonny Nash has been and still is more experimental and ambient by design. Enter Exit Six with its layering guitar reverb and whispered dream-like indistinct vocals and something of a past shoegaze sound reminiscent of Cocteau Twins allows the listener to implement their own narrative. The imagery of the album cover mixed with the haunting sounds had me hook line and sinker. Perfect song and album to accompany those more leisurely beautiful moments in life.
Leonard Cohen — "You Want It Darker" [2016] Leonard Cohen's You Want It Darker releasedjust weeks before his death in 2016 demonstrated to everyone he still had the chops. And why wouldn't he after such an incredible career as an artist. Always the brooding dark horse, Cohen embodies a lifetime of despair, echoing traces of redemption into a genuinely inspired song. Nothing but respect.