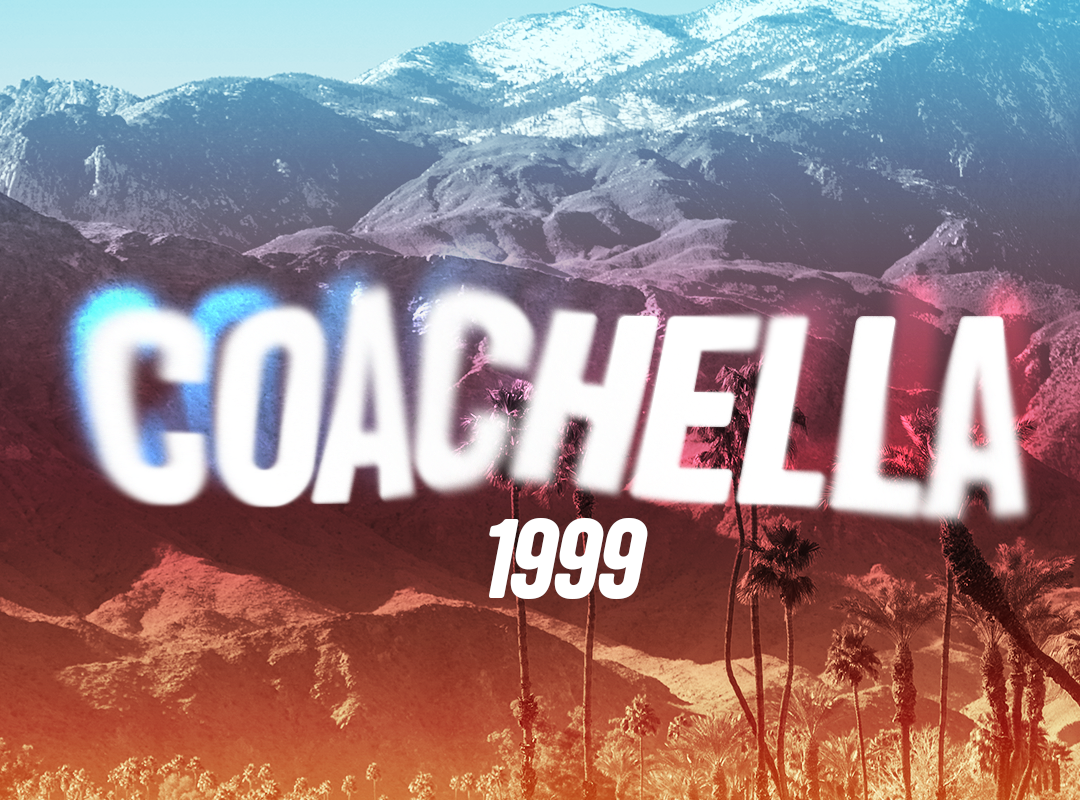 The Coachella 2023 lineup dropped this week, and it's a juicy one. It got us thinking about the lineup for the first Coachella Music & Art Festival in 1999. Many acts are no longer active or have faded into obscurity, but this was a cutting-edge lineup at the time. For the mid-20s Gen X hipster crowd, Coachella 1999 was a dream.
The idea for a full-scale music festival in Indio, California, was planted in November 1993 by Pearl Jam, who played a show that drew 25,000 fans. The Coachella Valley Music and Arts Festival, began in October 1999 as a two-day festival with Paul Tollett and Rick Van Santen of music promotion company Goldenvoice as its producers.
The first-ever Coachella showcased major and emerging indie acts over two days on the stately, scorching, and outlandishly picturesque grounds of Indio, California's Empire Polo Club. The festival suffered a substantial financial loss for its organizers, Goldenvoice, costing them around a million dollars. Despite this, the festival returned in 2001 and began its rise to becoming one of the most anticipated music events each year.
In 1999 an estimated 17,000-20,000 people attended the festival each day. Tickets cost $50, which included parking and a complimentary bottle of water. Coachella 2022 drew in crowds of around 125,000 per day, meaning that approximately 750,000 people attended the festival over six days. Tickets for Coachella 2023 start at $499.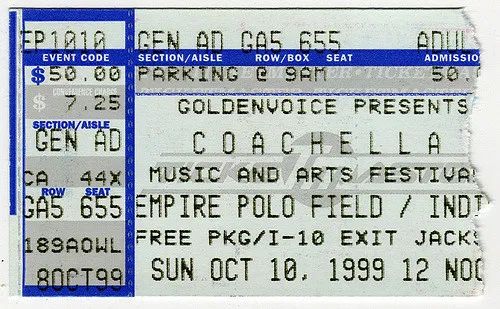 Some of the artists that performed at Coachella 1999 include Rage Against the Machine, Beck, The Chemical Brothers, Tool, Perry Farrell, Cornelius, Bis, Underworld, Art of Noise, Breakbeat Era, Roni Size, Die & Dynamite MC, Plastikman, Richie Hawtin, Juan Atkins, Kevin Saunderson, Derrick May, Spiritualized, Modeski, Martin & Wood, Modest Mouse, Super Furry Animals, IQU, At the Drive-In, Los Amigos Invisibles, The Bicycle Thief, A Perfect Circle, Amon Tobin, Kid Koala, Jurassic 5, Mr. Scruff, Nightmares on Wax, D.J. Food, u-Ziq, Tomas, DJ Rap, The Wiseguys, Bassbin Twins, Sandra Collins, Christopher Lawrence, and Simply Jeff.
It was the time of President Bill Clinton's impeachment, the introduction of the Euro currency, and the war in Kosovo. Napster came out that year and changed the course of music. "The Blair Witch Project" scared everyone, and we were obsessed with "The Matrix" and "Office Space." People said things like "Da Bomb" and "Gettin' Jiggy." If you're still using these today…well, you do you!
Fashion was about Karl Lagerfeld, Helmut Lang, Versace, Alexander McQueen, Yohji Yamamoto, and Calvin Klein. The economy was healthy, with low inflation and low unemployment.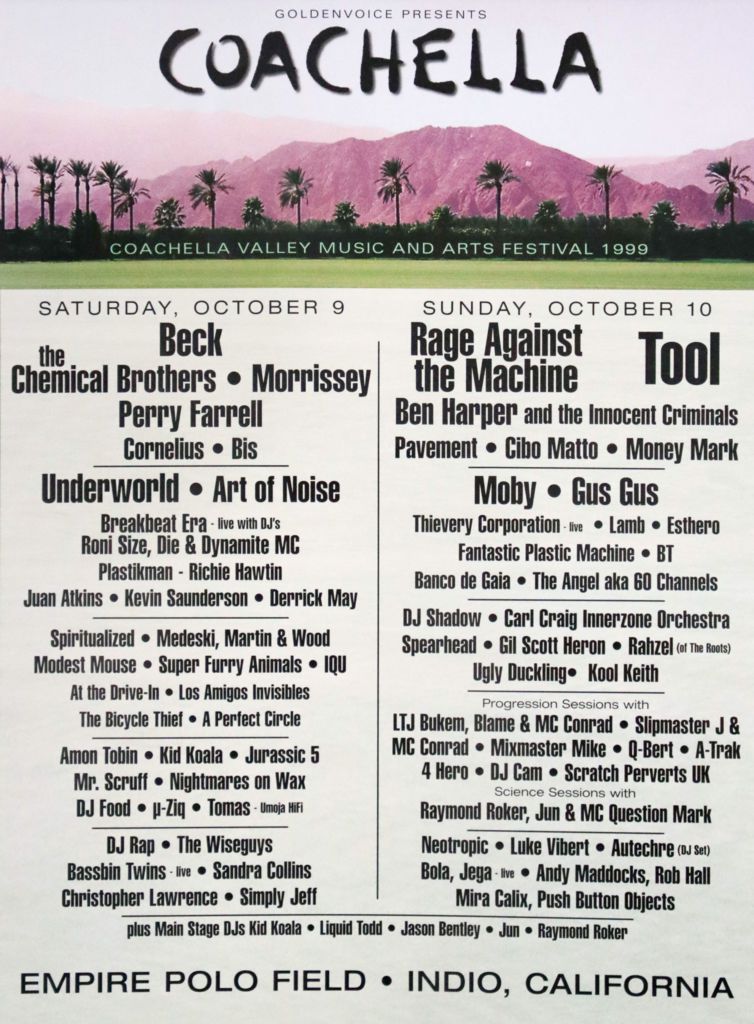 Unlike the Coachella 1999 lineup, Britney Spears, Backstreet Boys, Ricky Martin, Christina Aguilera, Shania Twain, Destiny's Child, TLC, Lauryn Hill, Kid Rock, and Eminem dominated the Pop music scene.
The most significant influence on the lineup might have been the internet boom. 1999 was the peak of the DotCom era. Chat rooms, message boards, email lists, and file sharing connected people worldwide. These connections brought local demand for foreign music, and the late 90s saw a boom in niche music stores like Other Music in New York City. The internet brought globalization to Gen X and, with that, a whole new world of music.
One of the genres that washed up on U.S. shores courtesy of the internet was Intelligent Dance Music (IDM). The majority of this music was coming out of the U.K. at the time. This influence can be seen in the Coachella lineup by the fact that Manchester's small but legendary label, Skam, had five acts on the bill. Elsewhere, there's a heavy serving of Electronica with Roni Size, Gusgus, Neotropic, and The Chemical Brothers. Trip Hop, Drum and Bass, and Turntablism also make up for a large portion of the acts, whereas guitar-based music takes a backseat.
The rock choices are sparse but come from heavy hitters like Beck, Pavement, Spiritualized, and Morrissey.
Sidenote: An interesting parallel between 1999's DotCom era and today is the massive amount of venture capital invested into internet-based companies and similar investments that have gone into software platforms and technology today. The DotCom bubble burst at the end of 1999, mainly due to sky-high valuations of generally unprofitable companies. At that point, the collective losses for the 199 internet stocks tracked by Morgan Stanley totaled $6.2 billion.
Although the internet may have played a role in the lineup, these were the days before social media, smartphones, and WiFi. Getting the word out about the festival was more challenging than it is today. Deciding who was going to play was more likely based on the personal tastes of the people involved rather than Spotify plays and Instagram follower counts. In 1999, most people didn't have a digital camera, so it's hard to find photos online of the event today.
To help you imagine what it was like, we've curated a playlist featuring two songs from every artist that performed at Coachella 1999. All of the songs were released in 1999 or just prior. Enjoy Coachella 1999.