Kraftwerk: A Little History Of The Future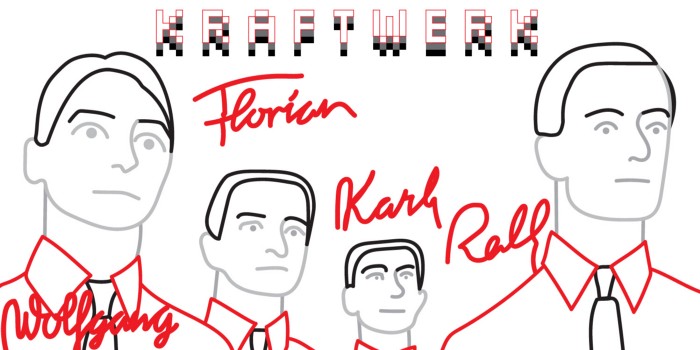 The news of the passing of Florian Schneider, a co-founder of Kraftwerk, sent our Music Curation Team headlong into a discussion about the group's tremendous impact on music. Kraftwerk influenced influencers, and their sound is a part of the very DNA of so much of what we listen to today.
Billy Caldwell broke it down like this: Kraftwerk was the product of post World War II Germany's efforts to rebuild and redefine itself culturally. There was a musical rebellion against the influx of American jazz, blues, and rock. This drive to find a new sound led to the highly experimental Kosmiche (Cosmic Music) scene; just imagine parties in the Black Forest with beating drums as part of the hunt for the heart and soul of German culture. The movement was dubbed "Krautrock," and it included bands like Kraftwerk, Neu!, Can, Tangerine Dream, Faust, Cluster, Ash Ra Tempel, Popol Vuh, and Amon Düül II. The experimental movement layered electronic instruments on top of the default foundation of rock and jazz; The presence of the Berlin Wall intensified the efforts to define a new cultural identity through artistic experimentation. Kraftwerk's incorporation of computers and drum machines yielded a unique sound, which was incredibly soulful. Brian Eno, David Bowie, and Iggy Pop were famously influenced by and cited by Kraftwerk. Detroit techno greats Juan Atkins, Derrick May, and Carl Craig have credited Kraftwerk for the birth of techno. "ANUMBEROFNAMES" by Sharevari, one of the earliest Detroit techno tracks, sampled "It's More Fun To Compute." Kraftwerk's crisp computer-filtered sound was remarkably soulful and transcendent. The full circle connection between Germany with its Autobahn and Detroit, aka the Motor City, is entirely poetic.
I reached out to Justin Strauss, who told me about the time he brought Africa Bambaataa to see Kraftwerk live at The Ritz in NYC. Africa Bambaata was already familiar with Kraftwerk, but the live show brought a new dimension of humanity and inspiration to everyone present. Schneider would extend instruments out into the audience during their song "Pocket Calculator." Africa Bambaataa famously went on to release "Planet Rock," which sampled "Trans Europe Express" and "Numbers," and Hip Hop would never be the same again. Strauss recounted that Africa Bambaataa repaid the favor by taking him to hangout out with James Brown one afternoon! Having first heard Kraftwerk on the radio in London while recording for his band Milk 'N Cookies, Strauss immediately bought a 7″ copy of "Autobahn." It heralded a new chapter in music, and his impressions and reflections are documented in his 2010 interview with Finn Johannsen.
Martin Moscrop from A Certain Ratio also recounted Kraftwerk's audience interaction: "I've seen Kraftwerk a few times, but I think the best time I saw them was on the Mix tour in 1991. I saw them twice, once at the Apollo in Manchester and Sheffield City Hall. I had front row seats for both, and it was when they still came into the audience on 'Pocket Calculator' and let the audience play instruments."
Adesh Deosaran, Activaire's CEO weighed in: "Growing up in the '80s, I couldn't help but associate Kraftwerk with their image as robots from the future. It wasn't until the late '90s that I discovered their early works. Their first album, 'Kraftwerk' didn't sound like 'robots' had made it. Released in 1970, it was closer to long-haired hippy music than sci-fi. There are guitars, real drums, and flutes! There's even actual long hair. In a video posted on YouTube a few years ago, a young and mostly long-haired Kraftwerk perform in 1970 to a large group of hippies and beatniks. The band looks like they could be opening for Santana. Three years after the 'Summer of Love,' a group from Germany were performing droney psychedelic music using synthesizers alongside traditional instruments. I can only imagine how far out this must-have seemed back then, it still seems far out to me now."
I've seen Kraftwerk 3 times in NYC, and each performance was consummately futuristic. To celebrate the past present and future of robots, our team has curated a Kraftwerk playlist with original songs, the songs featuring their samples, and covers.