The Future of Retail: Post COVID-19 Strategies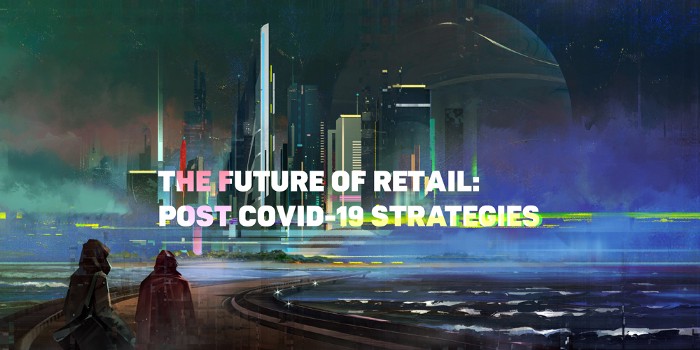 I'm writing this from Spain, where the coronavirus case count has now surpassed China. Over the past few weeks, the general attitude toward the virus has become more serious. The initial dismissal has given way to social distancing, gloves, and facemasks. The essential businesses that are allowed to continue to operate have had to make quick and likely unforeseen changes to the way they work to protect themselves and their customers.
We've become aware of the amount of distance between the next person and us as we wait in lines. My local vegetable shop now has a hand-sanitizing station set up in the front of the store. You cannot shop until you have sanitized your hands. I'm starting to see more face masks than faces. On social media, instructions on how to make sanitizer and masks are a regular topic.
There's no question that we're likely not going back to the way things were, but that doesn't mean our new normal has to be miserable. It just needs to be designed.
My work focuses on music, but my training in Architecture drives my need to design my way out of problematic situations. Here are some initial thoughts on how retailers can design their way around the problems the coronavirus poses to their businesses. If your company is able to help the medical community and people in need of personal protective equipment then that should be your first priority.
Hand Sanitizers — Invest in hand sanitizing stations for your locations and keep an ample supply of refills because these things are going to get used. If your customers are going to be touching your products, make sure they sanitize their hands before entering.
Face masks — If you are in the apparel industry, you need to start making masks. Washable and reusable masks are going to be just as necessary as clean underwear. If you can make the equivalent of an N95 mask, that's great, but right now, I think even the most basic protection will be appreciated. Start working with pattern-makers and industrial designers now to develop the most effective mask you can. Face masks are going to be the new fashion accessory, so make it fun. Have a look at the neoprene mask Supreme made for some inspiration.
Gloves — No one wants to have to wear blue surgical gloves out in public, but I've certainly seen a lot of people doing just that. Washable, reusable, and compatible with mobile devices are going to be a hot item. If you can't swipe on your phone with the gloves on, those gloves are useless. As with the masks, gloves are a great branding opportunity and need to become a staple product that your customers are going to need in multiples.
Surfaces — We know the coronavirus can live for more extended periods on surfaces like stainless steel, but does that mean we need to steer clear of these materials? I think it comes down to surface area and continuity. While surfaces like wood may not allow the virus to live as long, they are also harder to clean, and the textured surfaces provide more area. Smooth and continuous surfaces are easy to wipe down with disinfectant. Fewer seams mean fewer places for the virus to hide. Metal, plastic, glass, and certain stone surfaces will likely become more common soon.
Space — You are going to need more of it. The days of cramped stores and long lines are over. We may have to continue social distancing for a while, and that means people aren't too comfortable being very close to others. Stores may have to become more like showrooms and move the majority of their inventory to the stockroom. Limiting the number of people in the store at any given time is another option. To avoid lines outside, perhaps we may be shopping by appointment only. A spacious and relatively empty store could become much desirable and profitable.
Hours — This one is pretty simple, open early, and close late. If you have to limit the number of people in your stores, then take advantage of every waking hour. Many stores are already opening early to allow older customers a chance to shop in a safe environment. It seems counter-intuitive, but discouraging crowds may be the key to higher sales.
Staff — How your team engages with your customers is going to become incredibly important. Your entire environment needs to communicate the idea of cleanliness; this includes your staff. I'm relieved that the woman ringing me up at the vegetable shop is wearing a mask and gloves. It tells me that she is taking this seriously, and I need to know that right now. It might sound extreme, but uniforms might be a good next-step. Beyond cleanliness, I think it's important to stress that this is not the time to eliminate staff. Human interaction is critical; we need to be smart about how we go about it. We're all waiting for the day when we can get back outside and see other people, but I think we're going to be more selective about who we interact with. Create an environment where it is abundantly apparent that you, as a company and your staff, are taking every step to ensure the safety of public health.
Cashless — I'm no longer comfortable with being handed cash. I'm also not very fond of having to enter my pin on a touchpad or use anyone else's pen to sign my name on a receipt. Cash needs to be converted to either plastic cards or digital currency. Going cashless without providing a way for everyone to convert their money is socially irresponsible, so it's the responsibility of our governments and banks to develop systems to ensure no one is left out.
UV Light — During the holidays, we're often asked if we'd like our packages gift-wrapped. These days, I'd like my items sanitized. One way to do this is with UV light. We know that UV light-emitting devices are used in hospitals, and you can buy compact versions for your phone and keys, so why not sterilize my shopping bag? There's no evidence that these devices kill coronavirus yet, and over-exposure to UV light can lead to skin damage, so I don't think we're there yet. A device would need to be designed for this specific purpose, and I'm sure that it's not that far off.
Music — So what's it going to be like when we emerge from our bunkers? Some people are going to want to throw a party while others will need soothing. Music is intangible, and yet it can touch our souls. Since music will be one of the few elements in our world that won't be affected, it will be a hallmark of normalcy. If we're going to have fewer people in our stores, then we're going to need music to fill the space. Music will be a compelling way to make stores feel more comforting and more "normal." Music will be a tool to signal to people that it's ok to come out again.
I have a positive outlook, but I also think a favorable outcome is contingent on decisions that we need to start making right now. Collectively, through literature, movies, music, and art, we have already determined what dystopia and utopia entail. We've envisioned utopia as a place of seamless and continuous hygienic surfaces where we adapt our way of life so that we can live in harmony with our environment.
I'm looking forward to the steps we are about to take to defeat this virus and design a world where these pathogens don't stand a chance.