2023 music trends to keep your brand on track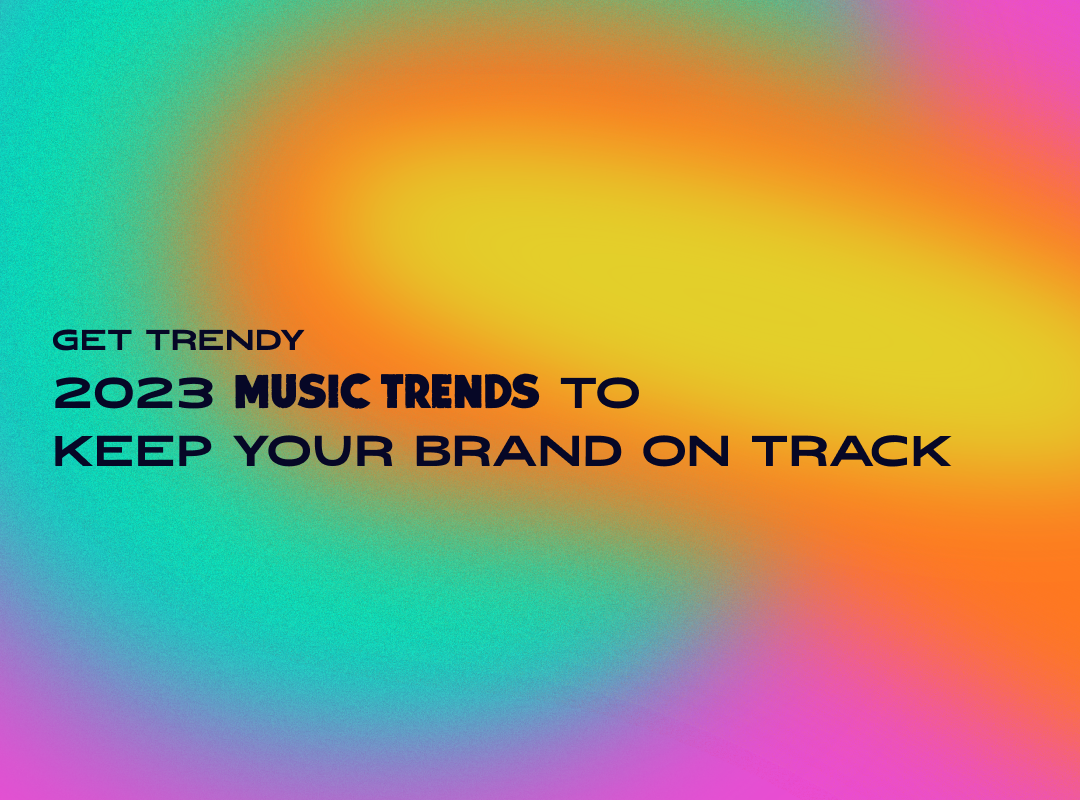 Afrobeats is King.
We predict a continued rise of Afrobeats in both music and fashion collaborations. With its hypnotic melodies and smooth rhythms, it's no surprise Afrobeats is again trending, coming off its widespread resurgence in 2022. It's the perfect recipe for Tik-Tok spedup remixes and collabs between African artists and mainstream Pop and R&B artists here in the US. Afrobeats has such an upbeat sound, and with the ongoing efforts of artists like Wizkid, Omah Lay, D'banj, Ayra Starr, Asake, Ruger, and Burna Boy, it's almost guaranteed we can expect more of the same year after year. The numbers don't lie, with Spotify reporting a 283% rise in Afrobeats streaming since 2019. Vogue cites three tiers of labels aligning with Afrobeats culture; fashion giants like Burberry tapping into Afrobeats for relatability, small brands aligning with artists for exposure, and brands like Daily Paper authentically continuing along the same lines since their inception. 
---
90s throwbacks are a Vibe.
It's no secret that 90s throwbacks are trending and vibing today more than ever in music and fashion. At Activaire, we not only hear the 90s influences from new artists, but the feedback from Activaire Curator also proves that our customers highly favor our 90s-era playlists and scenes. The influence of 90s R&B permeates so much current music, as clearly heard on the album "Raven" by artist KELELA. Artist CHAMELEON LIME WHOOPIEPIEPIE sounds like Luscious Jackson meets Beastie Boys on her track "LaLaLa," and we're not at all mad about it. The track "Easy" by PALE WAVE has straight-up Alanis Morrisette vocals, and it's not at all ironic. So many more examples abound.
---
Spedup Versions keep on coming.
Sped-up versions of existing songs have become increasingly popular in recent years, with record labels realizing that reducing the length of songs can result in more songs being released as remixes. This trend has been particularly prominent on TikTok, where sped-up versions of popular songs have been thriving and boosting streams and chart performance. The appeal of these sped-up remixes is that they value an overarching vibe, maintaining the general aesthetic of a track without the need to consider it too deeply.
---
Gen Z is ready to rock!
Generation Z has taken a liking to rock music for several reasons, such as growing up listening to their parents' rock music and the rebellious and countercultural elements it often contains. Studies have shown that Gen Z consumes rock music in various ways and has a complex relationship with it. Gen Z has created a more inclusive subculture around metal and other heavy music. Artists like YVES TUMOR, DEB NEVER, KERO KERO, JEAN DAWSON, JPEG MAFIA, UNDERSCORES, GENESIS OWUSU, DEATH GRIPS are combining rock with elements of everything from electronica to hip-hop and even J-pop. What's impressive is that the mish-mash doesn't sound muddy or confused; it sounds incredibly lucid, with better production across a more intense and emotionally elaborate musical landscape.
---