Music for Brands: quip & Beats – Your Ultimate Oral Care Jams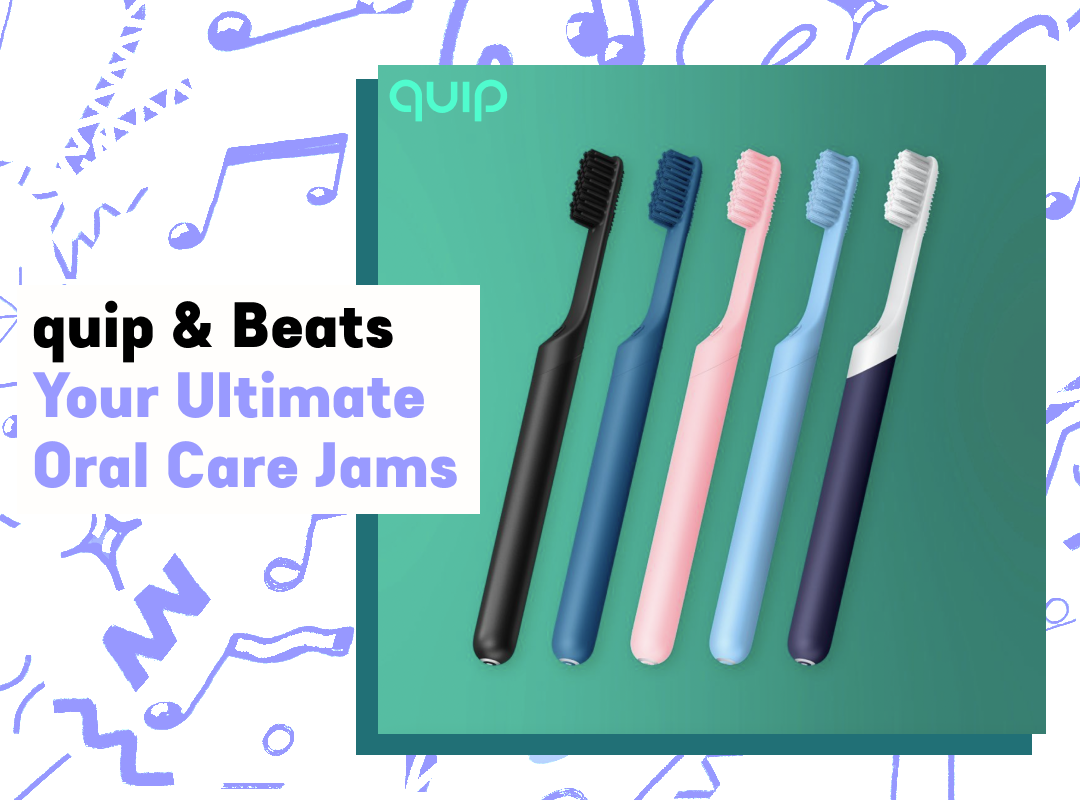 Welcome to a world where beats meet brushes; Activaire is your go-to for turning every space into a musical masterpiece. Music for brands is our passion but we're not just about curating playlists; we're about crafting experiences, and our love affair with music and branding is pretty nerdy and obsessive. Every track is handpicked to vibe with the space, the brand, and their fans.
While quip doesn't have physical stores, they've got a big feel, and every time we see their products, we think of songs that would go with them, so we decided to have fun with that idea and make some playlists.
Let's talk quip – the DTC gem that's turned oral care into a whole aesthetic. With their sleek designs gracing both online shops and the aisles of your fave stores like Target, they're not just in the business of brushes. They're bringing that fresh, clean, insta-worthy vibe to over ten million mouths and counting.
So, why are we so hyped about quip? Because, like us, they get that it's all about the experience. It's about turning the everyday and the mundane into something magical.
With quip's innovative approach to oral care and Activaire's knack for hitting the right notes, every brush and every rinse is about to be a top-charting hit 🎵✨
This one's for oral care enthusiasts and music lovers alike! We're diving deep into the world where rhythms meet routines and melodies meet minty freshness. Welcome to the universe of quip, where your oral care routine is about to get a playlist upgrade.
quip isn't just about giving you that sparkly, clean feel—it's a vibe, an experience, a whole mood. It's where sleek design meets simplicity and innovation, making your twice-a-day brush a main event. Now, let's talk tunes. We have a playlist that's as fresh and dynamic as your pearly whites after a quip sesh.
Our approach to curating music for brands involves analyzing many aspects of their business. Their brand DNA, Ethos, and Values are some key indicators we use to start building their profile.
After a deep dive into the world of quip, we created two playlists. The first captures the brand's spirit and translates it into a shimmering soundtrack for those pearly whites. The second playlist is based on the American Dental Association's advice to brush your teeth twice daily for at least two minutes. Each song is around two minutes long To help you keep track of time while having maximum brushing fun.
Here's how the songs we curated reference these elements of the quip brand:
DNA:
The playlist is a harmonious blend of contemporary pop, indie, and electronic vibes, echoing quip's innovative and modern DNA. Each song, from Kenya Grace's "Strangers" to daste.'s "Telephone (What's Your Name?)", encapsulates the brand's journey from a fresh, dynamic startup to a beloved oral care brand. The eclectic mix mirrors quip's origin story of challenging the status quo and transforming the mundane task of oral care into an engaging, aesthetic experience.
Ethos:
quip's ethos of making oral care accessible, enjoyable, and aesthetically pleasing is mirrored in the playlist. Songs like Dua Lipa's "Dance The Night" and CHVRCHES' "Over" embody the brand's commitment to infusing energy and excitement into everyday routines. The playlist is a musical representation of quip's "reason to believe" – it's not just about brushing your teeth; it's about turning every brush into an experience, a moment of joy, energy, and aesthetic pleasure.
Values:
The playlist reflects quip's core values of innovation, aesthetics, and user experience. Every track, from the ethereal vibes of Caroline Polachek's "Welcome To My Island" to the energetic beats of Imagine Dragons' "Follow You," is a testament to quip's value of integrating form and function. The diverse yet cohesive mix of songs underscores the brand's value of inclusivity, catering to a diverse audience of oral care enthusiasts looking for a blend of efficiency, style, and enjoyment.
This playlist is a musical journey through quip's brand identity. It encapsulates the brand's DNA of innovation and modernity, echoes its ethos of transforming oral care into an engaging experience, and resonates with the core values of aesthetics, functionality, and inclusivity. Every note, every melody is a step into quip's world, where brushing your teeth is more than a routine – it's a rhythmic experience, a dance of brushes and beats, echoing the brand's commitment to making oral care a moment to look forward to.