We sent our youngest team member to the Primavera 2023 music festival. Here's what he saw.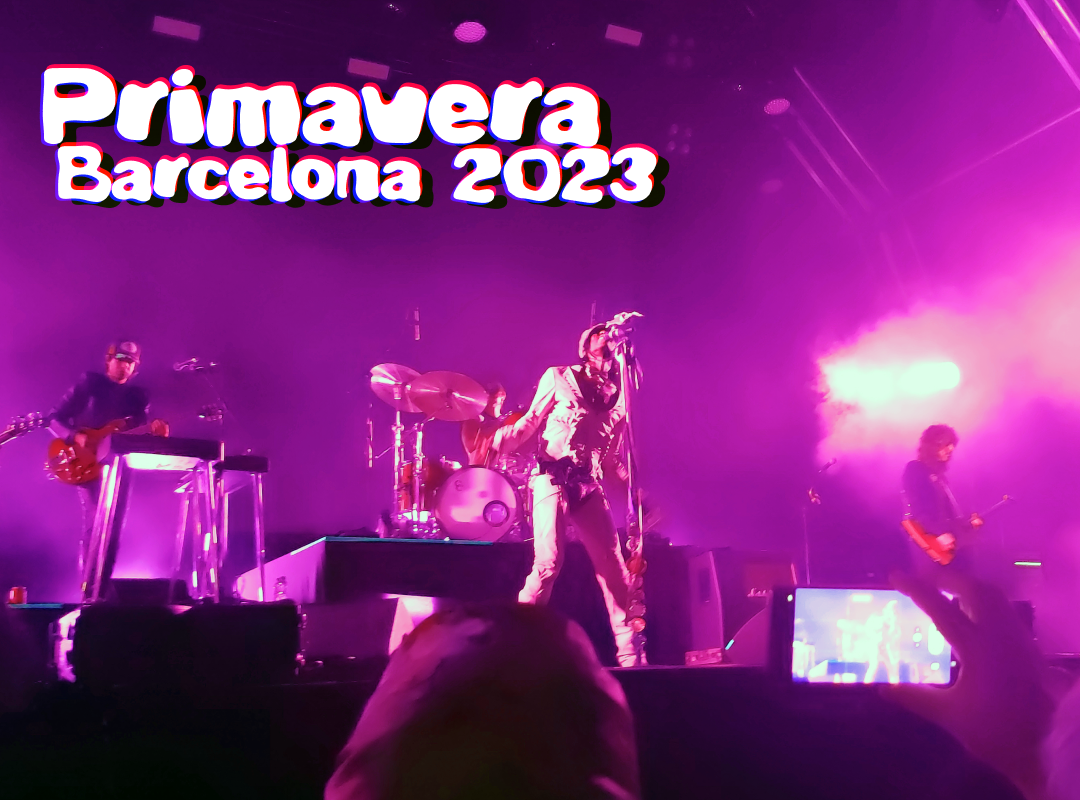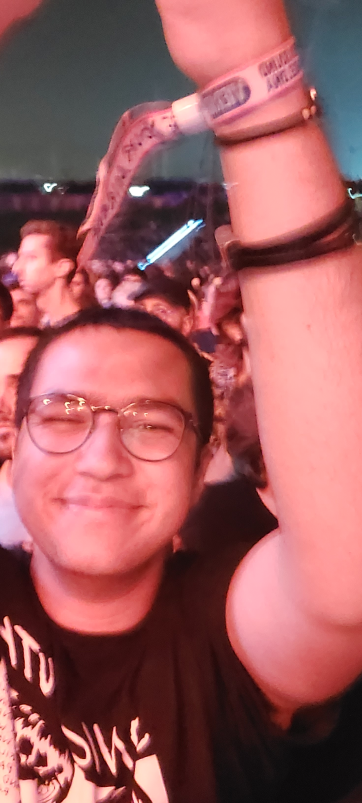 Meet Eero; he's seventeen and really into music. Eero collects vinyl, produces his own songs, and is deeply interested in the intricacies of his generation's music culture. He's been really excited about Primavera because it was his chance to see a lot of acts that he's been obsessing over. The Primavera 2023 lineup was a masterful selection of artists that appealed to Gen X, Millennials, and Gen Z. Eero had a blast and screamed his way through two long days of music. Here's his take on what he saw and heard.
Primavera Sound serves as one of Europe's most prominent music festivals, successfully reaching every corner of the music world by bringing in acts from all over the globe. I was lucky enough to be able to go for two days this year. Although I could not catch everything, here is a look into what I saw.
FRIDAY
5:45 PM: SOUL GLO DEMANDS YOUR ATTENTION
If you aren't already familiar with Philidelphia-based punk band Soul Glo, the best way to describe them is unforgivably intense. Their performance seemingly reflected this, as frontman GG Guerra screeched at the top of his lungs as his fellow bandmates matched his energy in their playing, letting out long, distorted guitar riffs, jumpy, fast-paced bass lines, and rambunctious drumming- all to be cut off midway through for Guerra to play Young Thug and give a speech about the injustices of the American justice system and gun violence, then immediately returning to the chaos which they had strung with their set.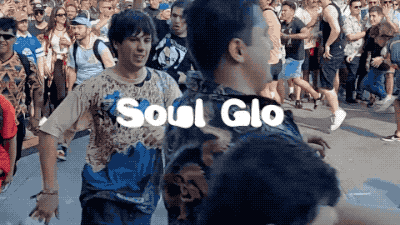 The crowd matched their energy throughout the show as well, as a series of primarily young men in band shirts that made statements such as 'I love Black Midi' moshed and thrashed to the sounds of cries against America's many injustices in this day and age.
Despite this, Soul Glo's set came with issues, as their set (like many others) found their vocalist not loud enough compared to the rest of their bandmates, making it difficult to make out what was being spewed during their performance.
7:00 PM: JAPANESE BREAKFAST WAS INTRICATE
In contrast to the thrashing anger of Soul Glo, Dead Oceans (Mitski, Phoebe Bridgers) signee Japanese Breakfast played a far more relaxed yet intricate set, as she and her band laid out charming melodies which could take you away in the wind. Her band was very fleshed out, ranging from violinists to multiple guitarists (J.B included), synths, and more. Breakfast was seemingly joyous through her whole set as well, consistently thanking the crowd for being there with her, and making statements such as feeling as if she had "worked her whole life to be here." She made sure to end her set with a bang, as she closed her set with an intense guitar solo which was met with cheers from a roaring crowd.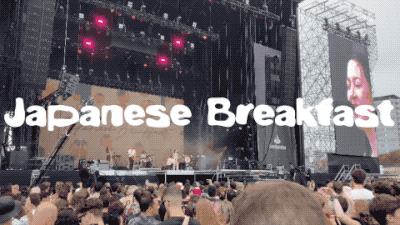 Although musically she was successful, her set design ran into issues, as parts of the massive screen behind her consistently glitched on and off, flickering, and tampering with the clean-cut performance that was being delivered at hand.
8:45 PM: 2 PHONE BABY KEEM WAS A ONE-MAN SHOW
Baby Keem has proven himself to be one of rap music's most prominent rising names in the last several years. His turnout matched that, as everyone crowded as close as they could to the stage to perform stunts such as waving a Baby Keem sports jersey in the air to garner his attention while on someone else's shoulders (P.S., it worked.).
Keem appeared on stage alone but brought the energy of ten men as he opened his set with the first track off his 2021 album, 'Trademark USA,' which was met with a roaring audience going bar-for-bar with the California MC. Keem's performance stayed high energy from front to back, as he played a mix of his biggest hits and deeper cuts, which he said was for "my day one fans."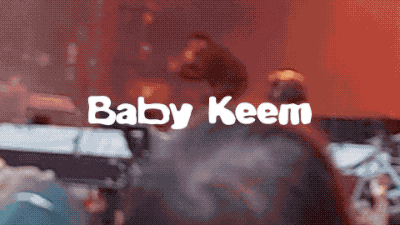 When the pits began to open up toward the middle of the set for the first of many times, I could not help but get a glimpse of a college-age man's MAGA hat from the crashing bodies- a bit out of place for a concert like this, no?
10:00 PM: DEPECHE MODE KEPT PRIMAVERA GOTH
I don't think I have ever seen so many Violator tattoos and Memento Mori T-shirts in my life. The adoration for Depeche Mode was overwhelming, as the pop group found themselves surrounded by thousands of die-hard fans fully prepared for every and any song they played.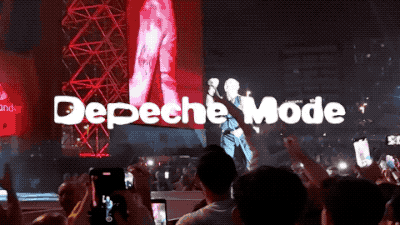 It was hard not to know every lyrics to these songs, as the synth-pop super-group played hit after hit for the second half of their performance which I was able to catch. Each song was met with a roaring crowd of fans who stood out against the other crowds at the festival, proving them to be the most dedicated group for the night.
This set had a sense of triumph as Dave Gahan sang the closer 'Personal Jesus' at the top of his lungs as his form of appreciation for the insane turnout at hand.
11:15 PM: KENDRICK LAMAR'S RETURN
Kendrick last performed at Primavera Sound nearly ten years ago in 2014, and it certainly felt like that in the air that night as thousands of people gathered around to watch the legendary rapper do his thing. My perception of space warped during Kendricks's hour and fifteen-minute set, as you could not move due to the amount of people packed to see Kung Fu Kenny live.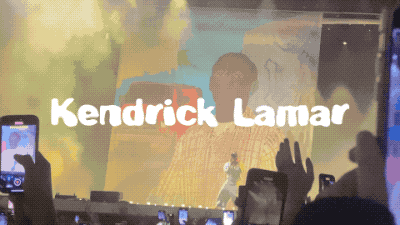 Kendrick's set was further confirmation for me and many others in the crowd that night on why he is one of the best in the world of hip-hop, as the Compton-born MC played a mix of his biggest hits such as 'Humble' with his deep cuts such as his verse of Pusha T's 'Nosetalgia' (way too many people on Twitter were upset that the crowd didn't know this verse word-for-word… c'mon now y'all). His set design was incredible too- a mixture of murals depicting strong black portraits and an intense laser light show as Kendrick very stiffly (but purposefully) moved back and forth across the stage while being backed by dancers who acted as his clones.
Kendrick performed for an extra fifteen minutes, making sure to bring out Baby Keem to perform their smash hits such as 'Family Ties', which somehow managed to get the crowd to open a moshpit of flaying arms and smiling faces.
This proved to be a strong return to the Primavera stage for the legendary rapper.
1:45 AM: YVES TUMOR GETS CONFRONTATIONAL WITH SOUND PROBLEMS
Yves Tumor has proven themselves to be an enigmatic rockstar with an attitude over the last several years following their exit from electronic-ambient music, and this performance was no less than what you would expect from the rocker.
Opening their set with a personal favorite, 'God Is A Circle,' it was unfortunately evident from early on that there would be some issues with the set, as enthusiastic fans screamed for them to play louder, to which Yves responded, matching the on-set anger, continuously turning themselves up with each song until they were satisfied, showing off the much-expected angst and sass which makes them such a character.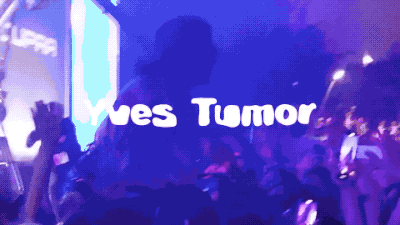 Much like Depeche Mode, Tumor found themselves met with a crowd of fans singing every word along with them- myself included. Tumor and their mysterious band were met with roars of joy throughout the entire performance, especially when Tumor brought out guest vocalist Kida to perform 'Lovely Sewer,' with them.
Tumor's stage presence was raw and lighthearted throughout, finding themselves prancing around the stage around their band, especially lead guitarist Chris Greatti (who has also worked with acts such as Willow and The Hellp), who was the most on board with Tumor's games, matching their energy. The crowd found themselves going absolutely haywire when Tumor jumped down from the stage to interact with the front row while remaining just as ominous as they had on stage. It's hard being this good at being elusive.
Tumor closed their set on the fan-favorite 'Kerosene!', prevailing successful even in the face of danger.
SATURDAY
10:45 PM: CAROLINE POLACHEK SETS THE EXAMPLE FOR POP PERFECTIONISM
Having one of the most thought-out stage designs of the entire festival, Polachek and her band found themselves stranded on her desert island, surrounded only by a sea of fans- one of which consistently begged Polachek to play 'Smoke' until he was met with success. Polachek was an incredible performer, as she perfectly sang for an hour and fifteen minutes without an issue while simultaneously doing a series of dramatic poses and continuous pacing. She had proven herself to be more in control over her set than any other act that played that night, having mastered the craft of what it means to be a pop star.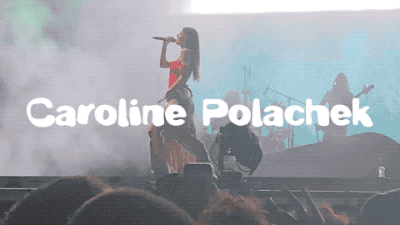 Polachek ended her set with the smash hit 'So Hot You're Hurting My Feelings,' which was the perfect way to end an already perfect performance.
1:55 AM: DEATH GRIPS KEPT THE AIR ALIVE.
Yes, I skipped Rosalia to see Death Grips. Yes, it was worth it.
Despite the night growing old as we were beginning to enter Sunday, no crowd was as lively as Death Grips' was at 2:00 AM. This liveliness wasn't first directed at the Sacramento-born industrial-hardcore band though, as the crowd first had to direct their internalized anger outward toward the Italian-rock band, Måneskin, who started their set by cutting off Warp (Aphex Twin, Yves Tumor) signee Kelela early, and ended it by taking away time from those trying to be noided. During this, you could see the mysterious figures of MC Ride, Andy Morin, and Zach Hill come on and off stage awkwardly attempting to start their set, which only fueled the fire Death Grips fans were feeling toward the Italian rockers.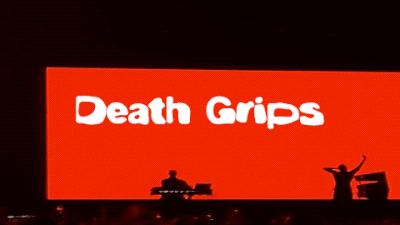 The real party started when the stage set itself to life as the obnoxious beam of red light set the backdrop for the next hour of Death Grips set. A now shirtless MC Ride (something a fellow concertgoer was openly praying for before the start of the set) kept the air alive as his thin, warped, blacked-out silhouette thrashed and morphed across the stage while letting out the throaty and angry blood-curdling shouts of the Punk-Rocker sticking it to the world. This was the energy fans were looking for, as for the following hour, the once perfectly still crowd became a violent (yet fun) moshpit, and by far the most intense one the festival had seen. From the beginning, this set proved itself to be a safe space for audience members to release their anger with the world, yet not with each other, as the crowd was seen smiling at one another for the entirety of the set.
It was some of the most fun I've ever had and by far one of the best shows I've ever been to, as the three-piece played their angriest and most visceral tracks, such as 'Good People Bad Ideas,' and kept their ambiguity until the end when they walked off stage without a word, leaving fans content and incredibly sweaty.
4:25 AM: JPEGMAFIA ENDS THE NIGHT WITH A BANG
The hour and a half between Death Grips' set and Peggy's were spent getting refreshments and unexpectedly making friends with longtime Jpeg fans that all-in-all added to the experience.
Jpegmafia stumbled onto the stage on time and opened up his set with the very sassy track 'Jesus Forgive Me, I Am A Th*t,' which saw the Army Vet switch between his lighthearted singing voice and the guttural screams of a man ready to have some fun, setting the idea for how the rest of his set would go. There were no low-energy moments during this entire set; even when he went acapella to sing Carly-Rae-Jepsen's classic pop hit 'Call Me Maybe,' there wasn't a song the crowd couldn't mosh to. I don't think I've ever heard the words "OPEN THE PIT!" more in my life.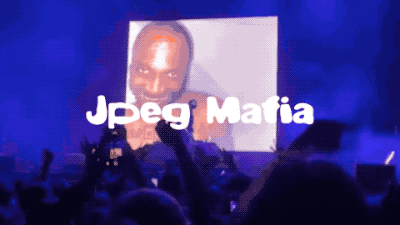 Jpegmafia's set was consistent in the energy he brought, as his catalog (the parts of it which are available on streaming that is) does not fail to stay high energy. He shouted his lyrics through the entire set, adding to the somewhat sloppy aesthetic, which is a part of his appeal. During his set, he repeatedly thanked fans for going so hard for him, even at such an hour, and tested his Spanish, bringing a lighthearted sense of fun to the atmosphere.
His set was messy, as he consistently went up to pause and change songs, and fill in for Danny Brown and Denzel Curry as they weren't there to perform alongside him, and as he kept going on and off the stage to interact with fans. This all added to the fun regardless. None of this lack of organization felt wrong or bad. It felt authentic to what you would expect from a Jpegmafia concert. It left me and many other fans sweaty yet content and filled to the brim with adrenaline as they walked away at the end with the now rising sun to their backs, making it the perfect way to end the night.